I have been waiting with bated breath for months for APQS to come out with their new ruler foot for my George. Every time I sit at my machine I would think about how great it is going to be……Then finally it arrived!! This is my review of the new APQS ruler foot. I felt that it would be best shown by a video.
I think my best advise if you have a George is to pay the extra $$$ and get the ruler foot. I know a lot of us are smarting ( judging from past emails from some George owners) that we had already paid for the ruler foot accessory set a few years back. I agree that the old foot is a bad design. It has been a source of angst for me. When I purchased George that is the one thing I didn't demo. I knew I wanted a ruler foot…..I had a ruler foot on my domestic sewing machine that I was happy with. I just assumed that the George's ruler foot- with it's 20" harp space would be awesome. The truth was the angle of the foot's ankle made the clearance to the right of the foot difficult.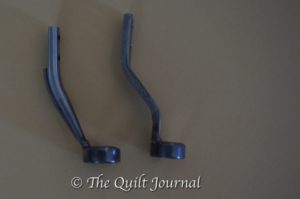 In fairness to APQS they did try to correct the situation as best as they could until a new foot was re-designed. APQS did replace a lot of ruler feet to George owners with feet that had a smaller soldering at the ankle join, hoping that would it increase clearance. It helped- but not quite enough to really be happy with it.
The cost for the new feet are :
$365.00 for the set of 3 feet (closed ruler foot, open toe ruler foot and a standard free motion ruler foot.) If you are buying a new George this is a no-brainer- get the kit.
Closed Ruler foot: $140.00
Saddle foot or open toe ruler foot $200.00
I purchased the set because I am an open-toe gal. I use the open toe ruler foot probably more than any other foot. It allows me to swing between free motioning to ruler work without changing my foot most of the  time.
Installation wise, I had to summon up a good dose of patience. 
I already had adjusted my hopping foot height higher with the old foot. My standard quilting situation consists of a Supreme Slider and wool batting combined with hobbs 80/20. I could hardly get the new foot on, the fit was so tight. So I got out my screwdriver and adjusted the new hopping foot higher. I also checked to see that my needle was centered in the middle of the foot. I think all the pressure we sit down quilters put against the foot, pushing that fabric around , going over thick seams etc. can eventually push the foot off-center.
Mine was off. I began to look around my sewing room for something to quickly measure the distance from the needle to the edge of the foot all the way around . I spied a tracing hopper sitting on my desk that I got from Lisa Calle.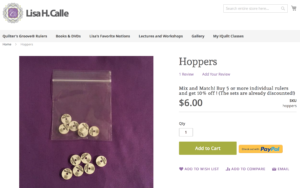 I used this as my template to measure my needle distance. This worked out okay, but I was talking to Brenda, one of my online buddies ,she said she just traced around the foot on a index card, drew 2 lines to mark center and checked needle placement with that. My drawn circles in my video may not be the prettiest but I find Brenda's idea easier to see than the clear plastic template hoppers…she's so smart 🙂 ). We may need to make that suggestion to APQS!
I know that not everyone will go through all these shenanigans of adjusting height, centering and finally tension from all your mucking around. Just allow enough time so you are not growing fangs trying to slap that puppy in quickly. Mine took me the better part of a day when it was all said and done( I know…..I'm special 🙂 )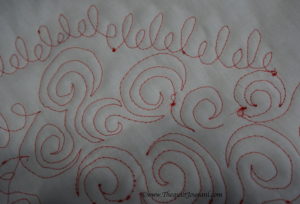 Lastly , I guess in my mind I envisioned this true 1/2" foot alleviating a good deal of the marking I do on a quilt- especially were rulers are concerned. After all this adjusting, measuring, re-checking, I have come to the conclusion for me, that I will continue to mark. I am not a professional quilter, so maybe I lack confidence or the skills yet. But I don't trust the accuracy of the needle to the edge of the foot in all directions.
Some quilt designs do not build on  previous lines and using a template's markings will suffice . But if the needle is off it may become obvious in things like grids. I think I'll save myself some heart ache and un-sewing and just mark.
The good news is that the new 1/2" foot with great clearance should open up the world of channeled templates like The Line Tamer or Lisa Calle's Quilter's Groove templates.
Well I hope this helps if you are on the fence whether to invest (or as in some of our cases-re-invest ;0 ) in the new ruler foot. For me, the cost was a lot cheaper than a new machine with a ruler foot that I was satisfied with.
I am not sure if the issue of your needle migrating off center happens in other quilt machine brands or not. If you have taken the time to read my APQS ruler foot review and can shed light on other machines,  leave us a comment and let us know- it's always interesting to compare notes.
Happy quilting my friends,
Debbie