Well the only thing I like better than Kitchen gadgets is sewing gadgets! I am a real sucker for anything new out there that may make free motion machine quilting easier or our stitches look better. I have used a SewSlip (silicone)  or a Supreme Slider (Teflon) for years now and couldn't imagine free motion quilting without one. I use painters tape to secure the edges so I don't sew the slider to my quilt (guess how I learned that one 🙂 ) .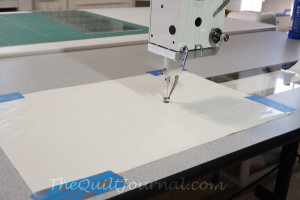 Recently I have seen Angela Huffman, an APQS educator on a YouTube talking about a polish kit for table surface areas (Formica and acrylic)  . It is a product put out by Sew Very Smooth. Has anyone used this??  I am not a lover of the Quilt Glide spray but thought maybe someone had a review on this new product. If it works it could give a bigger slick work area .
Well on to my reviews of what  Free motion machine quilting tools work for me or not …..
First I have to say I love my Machingers gloves.  I live in Florida and shall we say, in my mid-life years were hot flashes are a daily occurrence. Machingers are surprisingly light. I was really expecting to hate them, but ended up really loving them- just wish they came in colors that don't show discoloration from fabric etc. . Having said that , I have tried several others but have not tired the Grabaroos.  Anyone out there have a comparison ?
Quilt Sew Easy Discs did not work for me. I have heard /seen people using this but find that they make my hands kind of feel stiff from using these. I also thought they were a little pricey , but regardless, it would be worth it if it worked for me.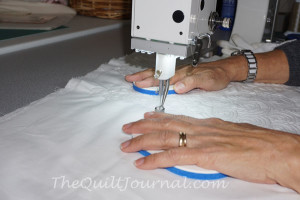 Next I tried the Quilt Halo.  These are put out by Sharon Schamber. I have to say, at first, it didn't  work for me either. The single ring just isn't substantial enough to hold onto. Then I came across a video by Sharon Schramber's daughter Cristy Fincher . Cristy uses 2 rings.  This makes for a more comfortable  FMQ experience.  She is able to hang these rings on her machine when not in use (looks like she sews on a Juki). I am not able to do that as the Baby Lock Ellisimo sewing head is too thick.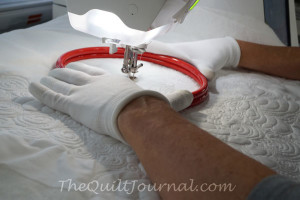 After that I tried the Husqvarna Viking Free Motion guide Grip. I had read that Lori Kennedy on the In Box Jaunt say this is her "secret weapon" ( if you haven't checked out her blog/tutorials you should! ). Well I  have to say this is probably one of my favorite too. It is open on one end making it easy to move on and off the machine . When using other hoops on the George I actually have to take off the foot to get a hoop on or off. I liked the raised side hand grips making for a light grasp , but comfortable FMQ experience . The guide is small, but perfect for micro-stippling or pebbling. I purchased mine off eBay and paid about $35.00 . You just have to be patient and watch as I see prices all over the place.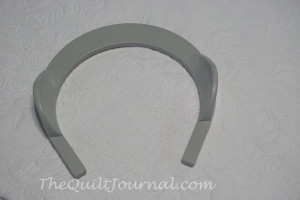 Lastly today I have to report on the Martelli  Free Motion Quilting GrippeRings. I really like the way the Martelli Hoop sits on the fabric and holds it secure without being heavy. They have a knob/handle on each side of the hoop for a light- handed , almost steering feeling  when maneuvering your fabric. For DMS there is an indentation for easy in and out from under your presser foot ( unfortunately I still have to remove the foot on the APQS George).  Martelli makes 3 hoop sizes, an  8″ and 11″ round ring and a 12″ square. The 8″ round is once again great for micro-stippling kind of work. The 11″ round can be used to stitch out motifs that are bigger in size . I have to caution you on the 12″ square. I purchased this thinking that it was the answer to that feeling of always running into the side of the hoop (you do stop running into the edges the more you use them). It is too big,  in my humble opinion , for a domestic sewing machine. It measures 15 1/2″ across from outside edge to outside edge. I took the picture below so you can see how much space it takes on the bed of my machine, leaving very little room to maneuver your fabric/motif.  I think this hoop has its place with the sit-down longarmers. The 11″ round is a more reasonable size for the bed of a DSM (see below). I would like to add that Martelli has wonderful customer service (thank you Patrick 🙂 ) should you need any assistance.