So What did I learn this week? Free motion quilting  free form feathers !  I  decided to give the free form feathers another try as there is no backtracking . I drew the curve that I would follow as my spine to aide me in my free motion quilting feather placement. Larger, open, sweeping curves work best.  If the curved angle is too tight  it is more difficult to fit your feathers into the inside curve.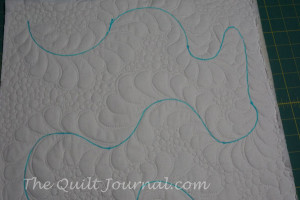 I worked the feathers right feather , left feather, making an implied spine. This worked  well as I didn't have to backtrack down the spine or echo quilt back to the beginning and work the free motion feathers one side at a time. Remember these are free form feathers so it kind of gives us permission for them to vary in size and shape too.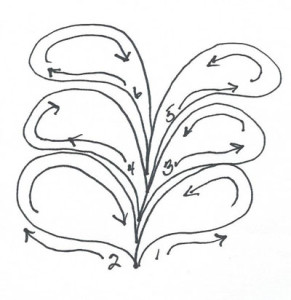 The design mistake that I did make and learned from was to echo quilt the feathers before doing the background fill pattern.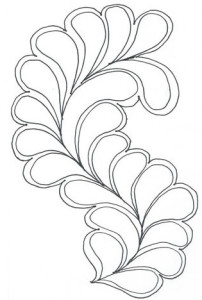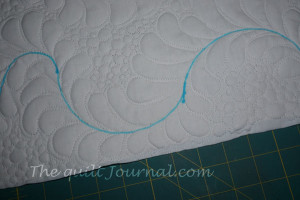 I put pebbling up against the feathers as a practice free motion quilting pattern (don't look too closely some look like kidney beans, I prefer to think of them as river rocks 🙂 ). In the first photo you can see the pebbling coming up to the free form feathers. The spacing in between the feathers leaves an odd unquilted feeling to the area when the different stitch patterns runs together. When I realized this and echo quilted the remaining free motion feather, it closed and defined the feather better making the background fill feel more organized in those spaces. This practice stitch out has given me the courage to use these free motion quilting free form feathers as an allover edge to edge feather fill on another table topper or old quilt top lying around just dying to be quilted !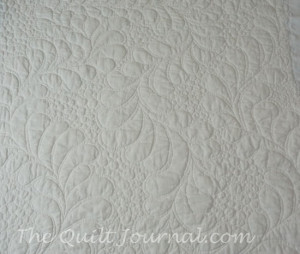 Hope you give these a try. Let me know how you like free form feathers,  I love hearing from everyone!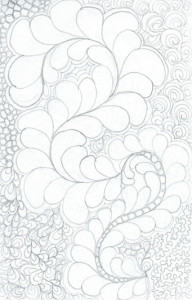 Happy Quilting !
Debbie