I didn't get around to blogging last week as I came back from having a great time at Mountain Quiltfest up in Tennessee and re-entry to real life is always tough! Lots of household fires to stamp out that took me all week to get a handle on. It's great to get away with my friends for some serious quilting time, but also great to get back home ( I think ??!).
Anyway, on to reporting in about the Quiltfest. I bought some new rulers for ruler work with free motion quilting, and some interesting thread that I will blog about after I have a chance to decide if they work for me… or not. I also took a class entitled Basic Feathers, Corners, Borders ,and Blocks taught by Sharon Schamber.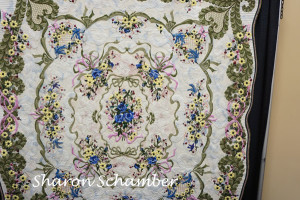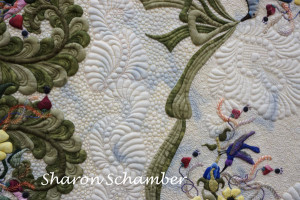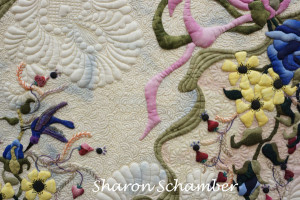 I have to tell you- she is an awesome teacher! Her Class is definitely one of the best classes I have ever taken. Sharon is detail oriented, but breaks her techniques down into do-able skill builders. She started her class off with her quilt basting technique which I have to admit I went into thinking "no way I am giving up spray basting and pinning"…..well I actually liked her method! It had many positives, with not having to tape and crawl around on the floor at the top of the list and it took about the same amount of time to do.  Watch Sharon's YouTube
and click  part 2 for second half. .  Keep an open mind!! I basted several wall hanging sized quilt sandwiches and it worked out terrific with, your quilt lies flat witn no puckers.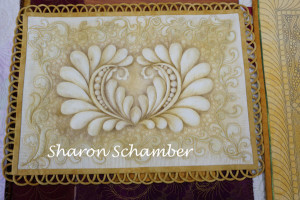 I have included some pictures of her beautiful quilts and samples (with her permission)- if they don't blow you away I don't know what will! Check out Sharon's website or her daughter Cristy Fisher's website Purple Daisies Quilting for lots of great videos that are packed with great info at a reasonable price. When I purchased my mini-library ( I ended up purchasing a total of 13 of her DVDs 🙂 ) I felt it was great resource for everything from quilt design to free motion motifs and techniques.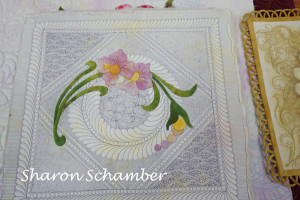 Well I hope you all get a chance to enjoy watching a few of her DVD instructional videos. Finding Free motion quilting classes on a local level can be difficult. The popularity of Craftsy and other online Video/DVDs are the most common way most of us expand our free motion quilting knowledge. What online free motion quilting class or DVD have you really enjoyed?
Happy learning and quilting,
Debbie
PS: if you like my blog please subscribe 🙂