YAY!!  I finished the baby quilt for my hair stylist…..now I can get my hair done ! All in all I am pretty happy with my little quilt… but the one thing that I really love is the curved free motion quilting ruler work border design.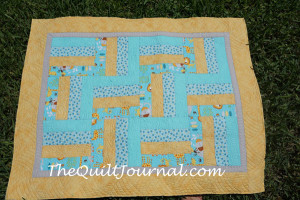 I saw this design for the first time at a quilt show. I am always toting my camera so that I have a visual reminder of designs/ motifs that I like. Then on one of those menopausal sleepless nights when I was up haunting the quilting blogs that I follow,  I came across a tutorial by Kathy at Tamarack Shack for a curved echo border using rulers. I really loved the movement in the design, but for some reason I had the hardest time drawing it out on paper.
Really ??!! – you're going to look at it and think "what was so hard about that"???  But I read and reread the instructions and it took quite a bit of doodling around to get the mechanics of how this design flowed (maybe it was the 2am variable that was making  this a "does not compute" moment 🙂 ). Once I had my  aha-ha moment the design couldn't be easier. I was going to use still pictures for this, but realized a video would be more to the point . I hope it helps get you started- if you have any questions at all, give me a holler !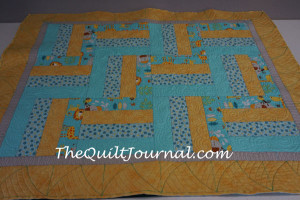 This curved free motion quilting ruler work border is simple to do, and looks so professional. If I can do it you can too!  I hope you give it a try!
Happy Quilting,
Debbie