Easy Beginner free motion quilting orange peel motif is the subject this week. In keeping with my New Year's resolution I am working my way through my sewing room's closet which is full of UFOs ( don't get excited , it's the only New Year's resolution that is still remotely in existence 🙂 ). I had a little table topper that I made from a charm pack. I always liked the whimsical fabric that goes with the colors in my kitchen, and It was time to quilt that puppy and use it!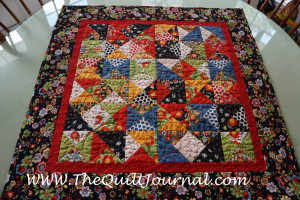 As you can see the piece is very scrappy. In looking at the piecing I decided that keeping it simple (not every quilt needs or deserves difficult or involved quilting and this was definitely in that category). The orange peel motif (or some people call it pumpkin seed) came to mind. My blocks where 3.5"- just big enough that totally free motioning it can leave me with wobbles here and there if my attention wandered (and that never happens 🙂 ). I decided to pull out my templates/rulers and see what I could make work. Unfortunately you never have the exact size you need at the time , enter highlight tape. A friend of mine had given me a roll for a knit project to keep track of the pattern (or more accurately keep me on track). It works wonderfully to mark your ruler/template positioning line  so that  it jumps right out at you so you can talk, watch movies, sing with your favorite music…..just saying …. you can find it at Wal-Mart, Staples etc. comes in a roll like scotch tape. Notice how you can see through it so you can still see your seam line or markings.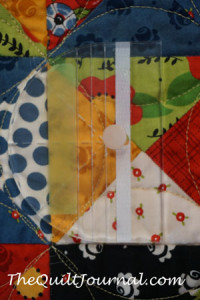 Anyway…in the mean time I found some circle templates on Amazon. It included a 1, 2, and 3″(and 1 1/2″ key chain that is quite usable too) template for $11.95 plus shipping. Not a bad price for 1/4″ thick templates ! I put the Nexcare tape on the back for slippage (thanks to Patsy Thompson for another helpful tip) and I was off and quilting. These are put out by a company called TCR Engraving and Graphics. I checked out there website and they have some interesting quilt templates at some good prices.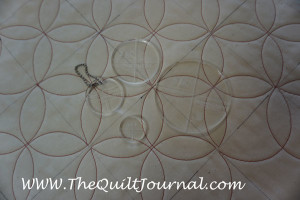 When I used a template that I was able to truly use half the circle (instead of the 1/3 or so  on my Fine Line ruler), the orange peel motif is centered in each square instead of centering on the seam lines. Both looks are nice- just a little different.
Hope you enjoy my video of the Orange Peel with Templates!
Happy Quilting,
Debbie