A month or so back I did a review of the Line Tamer Quilt ruler / template by four Paws Quilting. I really liked the ruler especially on my DSM as the ruler foot fit in the template channel in a straight vertical direction, allowing me to pull or push my quilt directly toward me or away. I feel this is the most natural position to stitch in the ditch at a sit-down machine. Unfortunately the Line Tamer did not fit the APQS George using the same vertical alignment.
On the APQS George, the ruler feet were too thick on the right side to allow me to stitch in the ditch with the ruler positioned straight vertical. You would have to use the ruler at a 45 degree angle to get the ruler feet to feed down the center channel smoothly – doable, but not ideal. I was sooo disappointed !  Then a kind reader shared with me that  APQS is making new ruler feet that are correcting the clearance issue on the right side of their ruler feet.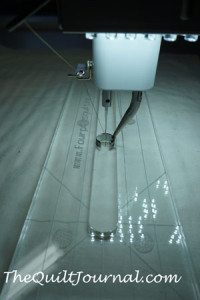 I have had my new ruler feet a week or so now and love the way they give me clearance to the right of the foot .The Line Tamer passes snuggly down the center channel without any problems, making this ruler a 2 thumbs up for stitching in the ditch for me.  On the other hand , after comparing notes I am told that some  ruler feet on APQS machines are still a bit too snug on the Line Tamer and they still feel a bit more comfortable stitching in the ditch at an angle.
APQS has their feet hand welded in the USA and therefore there can be some variation from foot to foot. My advice is when ordering your new feet ,call and talk to Amy or Dawn at APQS and ask them to visually pick the ruler foot that is the thinnest possible to the right side (the ankle should be sitting almost totally on top of the circular ruler foot) and ask if you can exchange the new foot if it doesn't fit your Line Tamer (remember you need to order a bigger size Line Tamer for the APQS foot).
Happy Ditching!
Debbie