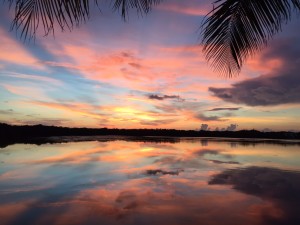 This week my family and I loaded up our little RV and headed down to the Florida Keys for a little lobster season action. While we won't be coming home with boat loads of lobster (we did catch a fair amount, but a fair amount were too small to keep). The water temp was 91 degrees- too warm for most good fishing.  I can say we learned a lot for our next adventure.
By the time my husband and son loaded up dive and fishing gear it was announced that my sewing machine plus all the paraphernalia associated it with was not going to fit in our little camper.  So I did the next best thing I could think of, I brought several quilt kits and table runners and got them pre-cut, so I have several projects ready to go whenever I get the time to piece. Cutting is my least favorite quilting activity so it felt good getting that out of the way at least for the immediate future.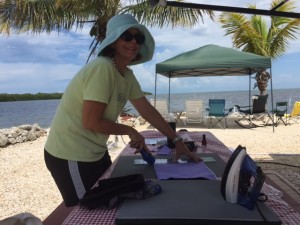 The other quilty activity I did was, I doodled a lot in my down time. On the way down to the keys we stopped in a Walmart, and I roamed into the stationary area looking for a new doodle pad. The only find that I came across was a package of Scotch Velcro dots .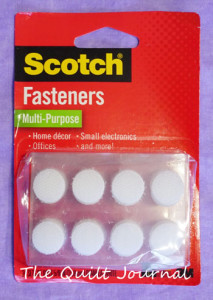 They cost me about $3.00 and have both sides of the hook and loop, so you can decide how much grip you need depending on the threads you are using. I thought these would be a great- inexpensive alternative for the quilt grippy dots that are a little on the pricey side after paying shipping. They really grip your fabric well- the only drawback I can see is on rulers that you expect to "slide" a bit like the Line Tamer or Lisa Calle's Quilters Groove. They may stick just a little bit too well making you feel like you are fighting to slide the template forward. On those I would stick with the clear quilt grips- gives some traction without really holding on.
What is your least favorite quilting activity? Cutting? piecing? binding??
Well My Quilty Friends, so far Florida has been blessed to side-step a few hurricanes, hopefully our luck will hold with Erika hanging to the south of us!
Happy Quilting!
Debbie