Today I'm doing a tutorial  about using Deloa's Angle Angel quilt ruler .  A while back, Brenda (one of my quilty friends I met here on my blog) asked if I had ever tried this ruler. Well I looked it up on Deloa's Quilt shop and knew I wanted to give it a try . This little ruler helps quilters get nice straight  angled lines, with minimal marking and  turning of your quilt (If you read last week's post about my quarter inch ruler foot not being centered- this was the ruler I was playing around  with).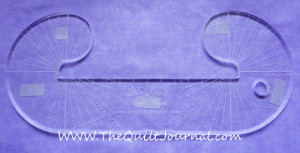 As a rule, I try to acquire rulers / templates that provide multiple design or uses to me as a quilter.  Deloa has a video out demonstrating this ruler doing a star burst pattern which is quick , easy and looks nice in just about any block. I wanted to see how well it worked on my sit down machine and how easily it adapted to other designs.
When I first got the template I had to sit in front of my machine and flip the ruler around trying to get a handle on how to use it. I still have to do this if I go a few days in between using the Angle Angel- but then it clicks in your brain and you are good to go.After getting the hang of it, you begin to notice other designs that you can easily use this template for. With a little time and patience I think this has now found a place in my ruler basket.
The video turned out a bit longer than I would have liked, but I couldn't edit it down too much more and still provide 3 or 4 examples of ways to use the Angle Angel .I started off with a very basic design ( a spider web…..Happy Fall Y'all!) and tried to progress on to – I won't say complex because they are really easy- but designs that are a bit more complex looking.

Keep in mind that you can always echo a design like the 60 degree triangle border in the video and fill those triangles with any fill design you desire.
As with any template used on a sit-down machine, some form of traction is needed on the back. I used Handi Grip on the back that I cut into strips to help the template grip the fabric and minimize slippage-I absolutely love this stuff if you haven't tried it ( Thanks to Beth Schillig for that suggestion! 🙂 ). Also make sure you have your glasses on ( ha-ha- don't pretend you have the eyes of an eagle- we all get there!) as I find the small degree numbers a little hard to see especially on light fabric- I have made more than one mistake thinking it says 20 instead of 50 or something! Deloa really tried to put as much info as possible on a small surface so I'm not sure those numbers could be made any bigger.
Well That's my angle this week (ugh!)
Happy Quilting my freinds!
Debbie