This week I had the pleasure of taking two classes from Gail Garber through my local Quilt Guild. The first day the class focused on paper piecing a really beautiful Star and flying geese pattern called Tutti Frutti that is designed by Gail. It was a great refresher if you hadn't foundation pieced in a while, with great tips to expand your skills to more complicated designs.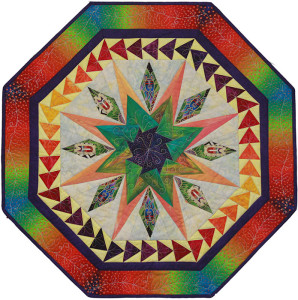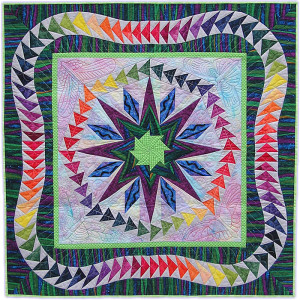 The second day the class was Designing Sensational Stars. In this class Gail took you step by step through the process of designing and drafting your own star patterns and pieced borders. I wouldn't have known where to start that process when looking at her lovely quilts. But I have to tell you…I'm teachable! At the end of the day I had a beautifully drafted pattern of a very pretty star quilt and was well on my way to a beautiful quilt. I highly recommend taking a class from her if you ever have that opportunity- or suggest to your quilt guild that they sponsor classes from her. The classes are based on Gail's book Flying Colors.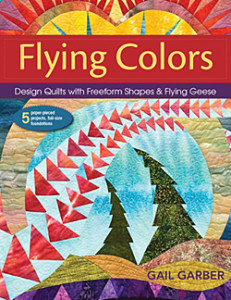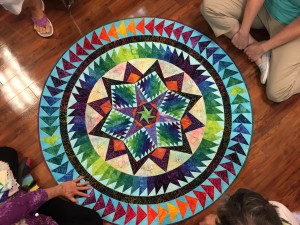 The pictures that I am posting of her quilts don't do them justice.  A lot of Gail's quilts have great stories and interpretations that really make her quilts come to life. Her use of color definitely conveys her feelings and emotions that she has put into each quilt.
On another note- I only got a little quilting done this week on my version of the Judi Madsen modern quilt from her class Quilting makes a difference. That will have to be finished after the Thanksgiving holiday, as there's no time left in my life to really sit, relax and enjoy the quilting journey.
Having said that, I am pleased to say that Diane C. has won the drawing of the Judi Madsen iQuilt class, Quilting Makes a Difference. Once again I have to thank American Quilter's Society for generously sponsoring this giveaway.
Wishing you and yours, a Thanksgiving that is safe, healthy and filled with memories that we will be thankful for, for many years to come.
Happy Quilting!
Debbie