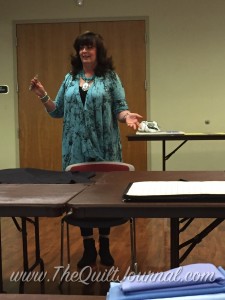 This week I went to a fantastic art quilt class from Melinda Bula. If you are not familiar with Melinda Bula you need to go to her website http://www.melindabula.com and click on gallery. Her work is amazing! She is a many times over, award winning quilt artist. I took a class online from iQuilt called Fabulous Flower Photo Quilts that was really great- but if you get the chance to take one from her "live and in person" – do it! Melinda is warm, funny ,down to earth and above all informative. I spent 2 days with her through my local quilt guild and I loved every minute (okay…maybe not every minute…you know the drill when you have a sold out class of quilters and 2 irons :)…. ). I took her Clematis workshop the first day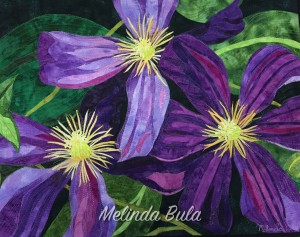 and her Renegade Thread play the second.
Melinda approaches her classes as an artist or a painter would- working from the front -( not the back of the quilt as we so often do when we appliqué) building a quilt that looks very 3 dimensional.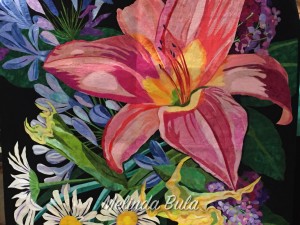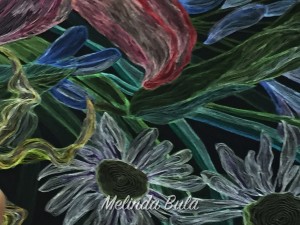 She does this by meticulously choosing a ton a of fabrics in varying shades, tones, and values.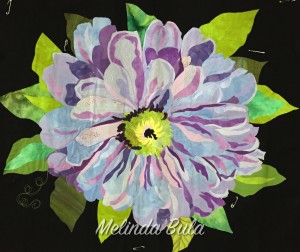 Then she takes it even further by adding texture and more shading, highlights or color with her thread play. I am not going to say this is a quick process. Below is all that I have to show for my first full day at the Clematis quilt.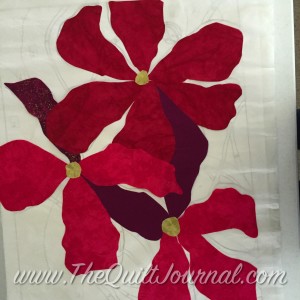 I took this class with one of my best buddies and we are going to press through (no pun intended 🙂 )  this next week and at least get the top fused down and ready to start a little Renegade Thread play action of our own.
Now before you judge me too harshly and say…."is that all she got done in 5 or 6 hours??!!" , Melinda had a lot of information that she had in impart to us non-painterly individuals,… there was fabrics to pick (especially if you were one of the people (that would be me) that had carted all your scraps from the past 10 years to make a masterpiece, instead of buying a kit, so you could better learn to pick fabrics (sorry Melinda 🙂 ) lol) , fusing to be done, irons to wait for , and before you knew it , phew,  it was time to pack it up and go home!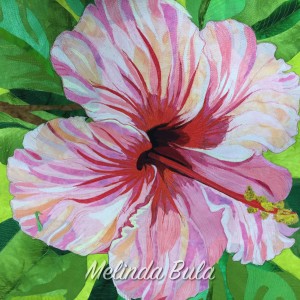 As Inspiration I have included a few pictures from Melinda's Quilts that she brought with her to our class. Some are finished, some are just fused and waiting for the next stage.  I hope they leave you wanting more as they did me the first time I saw them. I took these pictures with my phone- so they really don't do it justice- but they are inspirational just the same.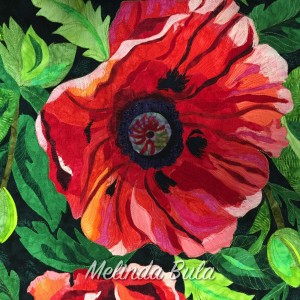 Thanks for visiting!
Wishing you lots of creative happiness this week,
Debbie
PS: Thanks to Melinda for letting me share photos of her work and for a great class!  🙂