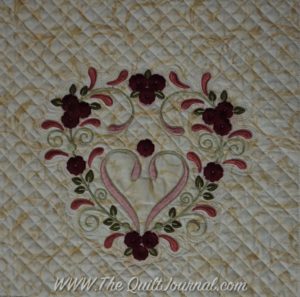 I stitched this sample with 100wt Invisafil thread in the upper and 60 wt Bottom Line in the bobbin
After coming across some orphan blocks that were older then dirt in my stash, I decided that I would do a tutorial on easy diagonal  cross hatching. I am not saying that this is the only way to mark/ approach cross hatching. This tutorial is all about an easy, quick, accurate and enjoyable way to approach cross hatching.

Back in February I took a class with Cindy Needham. I can't say enough good things about her. If you have taken her Craftsy classes great  – but if you ever get an opportunity to take a class with her in person- do it!! One of the things that really took root with me was that she uses stencils to make the quilting process easier, more accurate, give you better results and ultimately more enjoyable. 
Once again I was impressed that as I go out of my way to avoid marking , I keep hearing top notch quilters saying they invest a little extra time on the front end of quilting by planning and marking their quilts as much as possible to obtain the great quality quilting that they consistently produce. I have really been trying to plan and mark more….which isn't easy for a gal that flies my the seat of her pants a lot :)…. I found out that the little extra time pays off in my end product. I'm not saying my quilting is perfect….far from it! But I can really see growth in that time spent marking and working my plan. 
Having said that – I still don't love the time spent marking- let's face it- it's not the fun part . But as much as I dislike marking- I hate ripping more- if marking spares you from that horrible feeling when you quilt your way around an area – only to find out that it has ran off and doesn't match up count me in!…. Not that that has ever happened to me! lol …..
Using those orphan blocks is also a great way to gain some practice navigating around obstacles without all the anxiety that we all have felt when we have finally finished a quilt and just don't want to 'screw it up" when it comes time to quilt.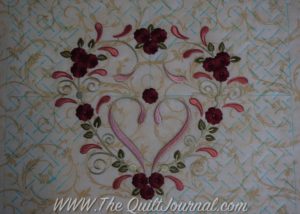 I used Cindy's Ultimate Stencil to mark my block into 8th's , giving me the registration marks to keep my stencil marking on track and lined up as I slide it from one area to another. The diagonal cross hatching stencil is one that I had in my stash from the Stencil company. I do use a straight longarm ruler to guide my ruler foot along the lines that I have marked, making it an easy way to do cross hatching. Merging stencils with some basic ruler work will give you more accurate results, by giving you a constant visual that you are staying on track and not running off.
I am not saying that you can't measure and mark your cross hatching using whatever method you prefer – it's all good! I just know that I love to quilt and don't love the prep time necessarily going into starting a project. 
If you are new to cross hatching and have some stencils hanging around, I hope you will jump in with some orphan blocks of your own- you will be amazed at how easy cross hatching can be!
So….do you mind marking or not??
Do you try to mark just about all your quilting or just the major elements?? Inquiring minds want to know!!!
Happy Quilting!
Debbie