A long story short- my son has a friend that has hung out at our house for years and has persistently asked me to make him a quilt through the various stages of his young adulthood ( come on people- don't make me feel bad about this- we all know what these guys rooms and apartments looked like- it was enough to break out in a rash just walking in the door! 🙂 ) This past year he came for a visit and told us he was getting married….he asked " will you make me a quilt now??" – I just said "we'll see"…….Only a few young people have asked me for a quilt , and only a heartless hag would deny that kind of persistence lol ! I had no idea of the couples color scheme in their apartment – and lets be honest- does it matter? How many times have you changed your decor over the years? It's the quilt that matters.
So When I went to Paducah this year it was with the intent to shop for fabric for Eric and Rebekah's quilt. What I decided to do was a quilt that was red, black and white- University of Georgia's colors as that is where they met, fell in love and they are diehard Bulldog fans.
 It has been so much fun playing with this wedding quilt.  It's not finished by a long shot, but I have really enjoyed the journey and the memories of making it for them.
Here are a few things that I have ben playing with :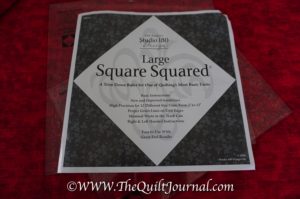 Lastly- for all of you that are new to free motion quilting. I know I am advocating skipping a stage with floating batting behind this outline embroidery instead of stitching around each design with your dissolvable thread. But, if that is not an option for you, I would encourage you to NOT use an open toe foot and carefully stitch around each design. This is good practice to drop those feed dogs and free motion your way around each design…and sooooo much faster once you get your mo-jo going!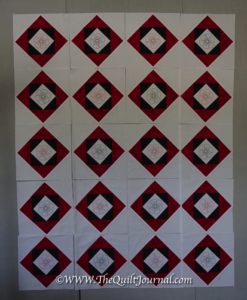 Here is the quilt on the design wall my son John Alan made for me. (I love being able to step back and look at things- best birthday present ever!!:) )It really helps to be able to look at the quilt when planning your quilting…..let the doodling begin 🙂 !
I am getting ready to leave on vacation for over 2 weeks, so my plan is to have this quilt sandwiched and basted -waiting for me to quilt when I get home.
As we head into summer I hope you all find time to recharge your batteries, whether it's finding more time to quilt and create or just hanging out with those you love,
Happy Summer!
Deb