I am so excited about the Clarity Ruler Foot review / video . The Clarity ruler foot is made by Carol Olson of Fine Line  Accents in Design.   I am honored, proud, excited ( and many other adjectives ) to say that I was included in the beta testing of this new ruler foot. I was sworn to secrecy and dying to tell people. Carol went public with this a few weeks ago when I was out of town and not able to take pictures and really show off this foot properly ( Carol worked night and day perfecting this foot). I decided that a video would show it the best, so today I threw this video together, even though my domestic goddess responsibilities are no where near caught up ( I just got in from Richmond last night….still need to do laundry yada yada lol).

The visibility on the Clarity ruler foot is great. I think that alone is a big selling point as I love to just leave it on my machine making transitions between ruler work to regular free motion quilting and back to some ruler work a breeze. 

The other great point is that regular 1/4 inch longarm templates/ rulers work just great with this foot. No need to buy special thickness rulers to fit. I beta tested this foot on a low shank machine with really good results- a little limited to the right, but quite honestly- that is the nature of a low shank machine and not a reflection on the foot. I now have a high shank machine and the clearances are amazing!
The only caution I have to convey is the need for you to lower your presser foot prior to dropping your needle to bring up your threads. This is especially important on the low shank machines – there just isn't that much room under there and your needle bar could smack the ruler foot , breaking your foot, your machine or both. This issue is not unique to this Clarity ruler foot- if you read about other ruler feet on the market they warn you about the same issue. Just get in the habit of lowering your foot before bringing up threads no matter what foot you have on and it will be second nature.
Carol has included a circle level disk to help install your foot to the proper height. I did not show that aspect in my video as Carol has 2 videos on her site that show all the info needed to install .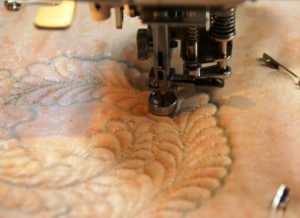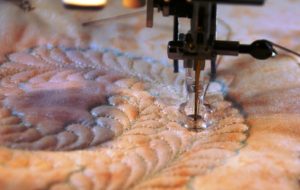 Lastly ,this foot is available at www.accentsindesign.com at a really reasonable price. The ruler feet are $24-$30 , priced well below anyone else out there. I do not sell this foot or profit in anyway- just think it's awesome!
Happy Quilting!
Debbie


Christmas in July Supplies sale at Craftsy – up to 60% off until 7/24/16 !!!