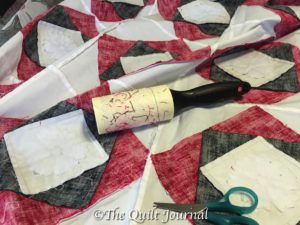 Do you all have a lot of pesky fraying threads making your quilt back clean up a dog? Cleaning up the back of my quilt after I have finished piecing is one of my least favorite things to do.  I know it is so important to the the quality of my finished quilt but when I finish the top, I am biting at the bit to get to the quilting stage.
This isn't my first rodeo- I have made light colored quilts before, but never with this much contrasting color (black and red) butting up against stark white. I have fished my fair share of rogue threads showing through the finished quilt with my trusty fine thread hook- no fun at all.  The fabric is  a decent brand and therefore supposedly, decent quality.  But even so ,does it seem to you guys that most fabrics fray more than they did 10 years ago? Or am I just tough on my quilts when piecing?  I know I love the feel of fabric,  but I swear, I'm not rolling around the floor with my completed quilt blocks (now there's a visual  🙂 !)- but they sure do look like it!
I do do the obvious and clean up each block when it's completed.… more or less. My real aha moment or thought is that in the future (and I do have another white background quilt in the horizon) I will dig out my pinking shears and trim up some of those seams after piecing the block but before piecing those blocks together into a quilt top. I am a slow learner, but I think this may help when using white against high contrast colors. I can't see me doing that all the time, but I would have saved a couple days in prep (and an extra trip to the dollar store for more tape lint rollers) if that aha moment came a little earlier .
I started to try and use my pinking shears on this top, but felt that I was courting disaster. The pinking shears are just too big and bulky to use after the top is assembled. The risk of accidentally cutting my top was a real possibility I could so see me doing.
Am I the only messy-Bessy out here? Do you think our fabrics fray more these days?  Do you mind the quilt back clean up? What is your routine to have minimal fraying at the end of the quilt top construction? Do you starch the devil out of your fabric and just resolve yourself that you will wash the quilt top when your done? Inquiring minds want to know!….
Happy Quilting my Friends !
Fraying in Florida
(aka, Debbie 🙂 )