So what does a quilter do when she's not quilting???
Lots of other sewing projects !!!
Today I'm linking up with Thank Goodness it's Finished Friday for my recent finishes.
At the beginning of the summer I had an informal "to do" list for things that just needed doing around my home. Well, as we all know,  life is unpredictable. My list went down the ole crapper – which is okay-nothing like a few wake-up calls to remind you what is important……
Then life begins to return to "normal" (not sure if my life could ever really be described as that 😉 ). I began to look around and things that weren't important a few short months ago, started to bug me again.
By late August / early September I began attacking things that were on my list. While I have quite a few things that will have to wait until after the holidays , my TGIFF is a hodgepodge of finishes from painting to yardwork to various sewing projects. I will spare you all the gory details and highlight a few sewing improvements that have been nagging at me.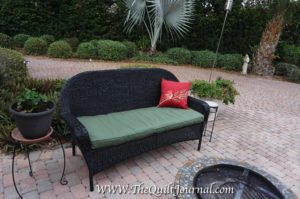 A new box cushion for my little outdoor wicker sofa.  Here in Florida we are just heading into our prime outdoor season ( the cute bird pillow was from the clearance bin at Lowes) . But I learned a lot about outdoor fabric. I made another cushion out of Sunbrella fabric in the past, but it didn't hold up. Turns out that Sunbrella fabric comes in different outdoor ratings- according to how much direct sun the fabric will take (and don't forget the UV upholster thread) . This time I ordered marine/ awning quality Sunbrella fabric. Not the easiest to make welting out of, but I'm hoping it will last a bit longer.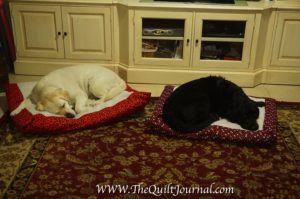 My beloved doggies were in need of new dog bed covers. I was going to photo before and after photos, but I was afraid you would think my whole house looked like their poor old beds 🙂 lol . Seeing them sleeping on their beds just makes me smile.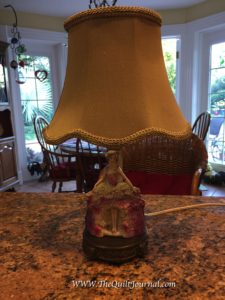 I needed a new lampshade for this cute little lamp that I bought in an antique store years ago. I looked everywhere for the right size replacement shade. One evening my daughter asked what the big deal was- it's fabric- you sew – make one…Well a few YouTubes later,  a dig through my fabric stash and I was committed. I learned a lot about things I would do again or not if I absolutely couldn't find a new shade. But I am here to tell you~ I now know why you pay a lot of money for an odd size silk lampshade !!!! I think I am ready to pay the big bucks and check that off my list the next time! I hope this one lasts a long time too!

Angela Walters

Finally, I squeezed in a 2 day class with Angela Walters at our local guild. I really liked her and her class. I have watched her Craftsy classes, but she is lovely ,inspiring lady in person. She is so down to earth and makes everyone feel welcome and  able to tackle that next quilt ~ it just makes you happy. It is what we hope we are to everyone we meet- inspiring, kind, encouraging .
As we are heading into Thanksgiving here in the USA , I am so thankful for my wonderful life, family and good friends.  I wish you the same wherever you may be. I have missed blogging with you all so please jump in and share what you have been up to. Link up  below and don't forget to spread that Linky thankfulness around!
With an Attitude of Gratitude,
Love and Hugs ,
Debbie
[inlinkz_linkup id=678478 mode=1]