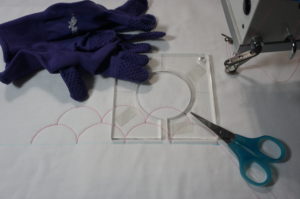 In the beginning of the summer I received a beveled inside circle template from Teryl Loy Enterprises. Teryl McKnight and her husband John are Innovis Longarm dealers out in Utah , run an on-line quilting supply store and manufacture longarm rulers/templates. What is unique about their templates? Well, first they manufacture rulers in 2 different thicknesses -the traditional 1/4" longarm ruler and a thicker 3/8" ruler. The second is that all her rulers/ templates have a beveled edge. 
Why does that matter??… In one word- clearance.
As quilters we are pretty good at avoiding the sides of our ruler foot that is difficult to get around. As sit-down quilters we are lucky that we can turn our quilt to get us out of those tight situations. But lets face it- if you have a larger quilt, you don't what to be swinging that quilt back and forth every other pass of the ruler. This is where the bevel may be helpful. Of the 5 ruler feet that I tried this template with, the tightest was (no big surprise) the low- shank feet.
On a low-shank foot, I was  able to make circles without feeling like the fit behind the foot was too tight. When I was doing designs like the clam shells or cathedral windows with a low-shank foot and I had to reposition the template half way around the circle I could feel some tightness toward the back . Still do-able, I just needed to be aware of it so I lined up my ruler carefully. Performance  of this template with a low-shank foot will vary due to the different clearances in machines.
I think these circle templates are nice if you are using an APQS Longarm style foot (like my George) or high shank DSM. I loved how it floated all the way around my foot without having to reposition my hands. I never felt any tightness or awkward passes when playing with various designs on my George.
My only real criticism is that this template does not have a "key" for the slot that we use to slide it on and off my machine. As sit-down quilters we apply more pressure pushing the ruler against the foot. Most of the time- if I am paying attention- I can anticipate the opening and glide past….but sometimes I get a small hiccup :).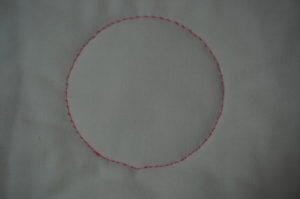 Circle templates are one of those things that most quilters end up needing at one point or another. They are handy for feather wreath spines, shield and buckle designs, orange peel or cathedral windows and  clam shells for a few quick examples of a template with multiple uses .
I think these beveled edge rulers may allow us sit-down quilters to do ruler work without having to turn/ reposition our quilts as much- which is a real plus in my book. I am eyeing a few other templates that I think may come in really handy……..
I hope you will visit Teryl's website : www. terylloy.com. Be sure to check out her great video tutorials on using some of her templates!
Have a great week!
Debbie