Welcome to The Quilt Journal! Today I am hosting Thank Goodness It's Finished Friday.
My question to you today is : Are you modern or  traditional in your free motion quilting style?
My initial knee jerk reaction, being the feather girl that I am 🙂 , was that I am a traditional quilter..…but maybe not?!
Back in November I did a blog post that showed the first of two quilts that I made while taking the Judi Madsen online
iQuilt Class Quilting Makes a Difference
.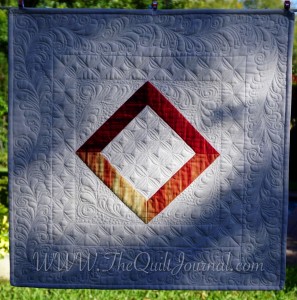 The class exercise was to piece two projects exactly the same, but free motion quilt each one in 2 different styles.  I am not going to define what exactly  modern quilting vs. a traditional free motion quilting style  is, as that is a subject that is way open to interpretation and somewhat subjective. But in general I think it is safe to say that some modern quilting involves more straight lines or geometry in the design (the modern example here had a lot more ruler work) and the quilting doesn't necessarily  respect the  piecing in the same way that a traditionally quilted quilt does ( this is a way over simplified explanation- but the difference could be a post onto itself! )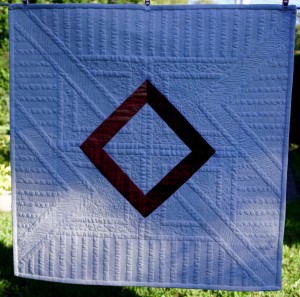 Initially, I felt the traditionally quilted one had more movement and just felt a bit more graceful to me. But now that I have finished the modern style of the two quilts (my first finish of 2016-woohoo!!)….I like that one too! I think it brings a lot of interest to a otherwise very simple quilt. In this case the quilting takes center stage. I think this was a wonderful exercise that pushed me to try something I may not have otherwise tried . Also because it was a planned, marked out quilt top, not a "practice sandwich",  you are more likely finish it and really get a feel for the two free motion quilting styles.
I will say also, you do spent a lot more time marking your quilt in the modern version. Judi's quilts reflect her perfectionism and attention to detail- she leaves nothing to chance. I found the massive marking a bit distracting at my stage of the game. I know Judi is awesome ,confident in her skill set and can see past the marking- me on the other hand, felt a little more comfortable spritzing a finished area with a little water so I could be sure I was happy with the effort I made FMQ.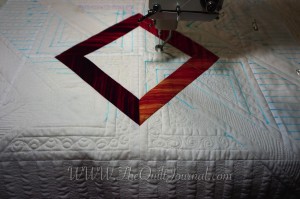 It didn't help that I ran out of the fine tipped blue marking pens and used one that is a little thicker…. Tip number #1-  if you run out of fine tipped blue water soluble pens…..just wait lol! There is a ton of quilting in this little quilt.  If you weren't proficient in free motioning fairly even ribbon candy / back and forth line  and circles….you will be better at it by the time you finish (notice I didn't say great…I said better 🙂 )! I think having a project that was more than a practice scrap pushed me to work the design and that plan from start to finish.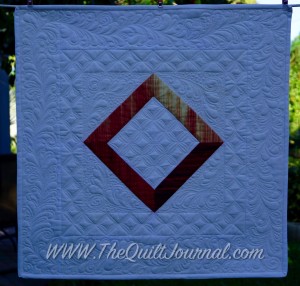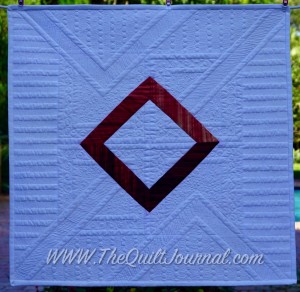 So my take home tips:
Use fine tipped marking tools
Stitch in the ditch the entire quilt first to stabilize
Be aware of the direction you are quilting in for your best possible stitch for your machine
This is a small enough project that I don't think it matters where you start quilting, as long as you have stabilized the quilt well
If getting even circles is trying for you, mark out where the center of each circle is to be….approximately…this is a guideline to shoot for. I heard Sharon Schamber recommend doing that once – if you don't need that – more power to ya!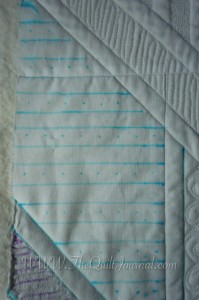 The areas that have piano keys that have an angled end (as the piano keys at top right side of photo- start your back and forth line design in the point of the piano key and work out the the squared edge of the quilt. It is easier to get them more even.
If you have a change in direction that you are finding awkward- mark it with a purple air-soluble pen so you can see what you are shooting for as you quilt. It's like driving a car- your hands will follow where your eyes are looking- but having a well defined plan helps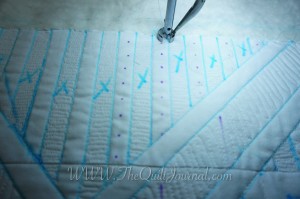 I quilted this quilt on my APQS George (a sit down quilter) using So Fine #50 wt thread from Superior Threads on top , Filtec Magna-Glide Classic in the bobbin. My batting is Hobbs 80/20.
Now that I have done both quilts, I would have to call my self an eclectic quilter….( I think that is a kind way of saying I don't have a style lol). But in all honesty, I don't know that I want to be defined one way or another. Both have their place depending on the quilt.
So what do you prefer….the traditional or the modern version?
Now onto our TGIFF Linky Party. Please show a little love to others that are sharing their creativity by clicking through, visiting their sites and leaving a few warm and friendly comments to let them know you appreciated their fabulous finish! This is what makes this so awesome….sharing what we do with others around the world! Don't forget  to link back to TGIFF or grab a button to display on your site!!!
[inlinkz_linkup id=599495 mode=1]
Thank you for stopping by and being a part of my world! I really appreciate it!
Happy Quilting!
Debbie