A few weeks ago I got an email from a reader that had just purchased an Accents in Design Fine Line Ellipse Template. She had posed the question as to what else can she do beyond the obvious when it came to design options. My response….lots!! 🙂 I hope you find a little Ellipse Template Design inspiration!!

I had been thinking about re-doing one of my first videos that was about the Fine Line Ellipse template….my lighting/ angle/ lens, was not quite worked out yet, to say the least. I stitched this in contrasting thread once again for visibility during the video- it does show every little wobble, but I think it would be lovely in a complimentary thread color.

I Love this template. It is a No- Brainer- a go to  when it comes to borders. It's an easy design answer to almost any flavor quilt you may have. Just change up your fill pattern. Keeping it simple for busy fabrics , baby quilts or heavy use throws….just go with the template outline- in one, two or three passes.
But if you want to put your stamp on a quilt, then start doodling and thinking about filling that space of the ellipse.
I have to say that I do love the ole artistic value of 3. My favorite motif is when I divide this design into 3 and then fill-er-up! Play around with it…I have done the peace sign /pie slice division of space- let your imagination go with it!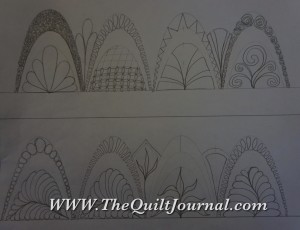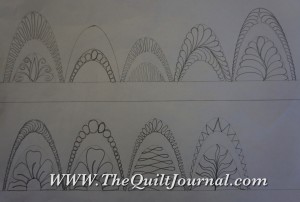 I sat in front of the TV, while my family watched"Lord of the Rings", doodling away. I have pages of combos using different fillers (no you won't find Frodo in one of my motifs 🙂 …) I encourage you to sit ,relaxed and doodle- see how many combinations you can think of. These are all designs that we all know how to do- easy- peasy!!
Happy Quilting my friends!
Deb