This week's post is a review of  Free-Motion Quilting Idea Book by Amanda Murphy. I hadn't heard of or seen this book before, but came upon it one night while I was surfing the web.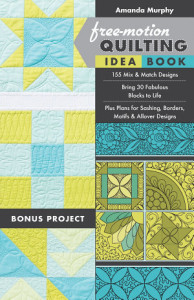 As a side note, a quilting buddy shared an internet shopping tip a month or so ago. She said to put the things that you are interested in buying your cart and wait 24 hours before you return to purchase. A lot of the times, 24 hours later, you may feel like you can live without that wonderful gizmo or whatever… (she also just informed me that doesn't apply to online sales – LOL- in that case you can wait an hour or so to see if you feel the same about it – thanks Kathy!  ,you have saved me a lot of $$). This tip alone is worth reading this post if you practice it!
Anyway, back to the book 🙂 .  I read the glowing reviews on Amazon and dropped it in my cart…. playing by the rules not to purchase for at least 24 hours. 
I happened to be going to my quilting group the next day and asked another friend if she had the book and if she liked it. She equally gave it a good review , so it got moved from my shopping cart to a purchase -she's a talented quilter in her own right so I respect her endorsements (how many books have you purchased sight unseen only to feel lukewarm about when you held it in your hot little hand?- more than I care to admit!).
Now that my book has come (don't you love getting packages in the mail ??!!) and I have had time to really give it a good look, I have to say that Amanda Murphy did a good job. This book takes a lot of traditionally pieced blocks and shows you several different ways to quilt them – with simple doable motifs. This is a great book for both beginners or those that have been free motion quilting a while and just need some inspiration ( come on….we have all been there…your quilt is done and you have been looking at it forever….and ….nada…nope…nothing..).
Amanda organizes her ideas by indexing by quilt element (blocks like churn dash or pin wheel) or designs by family (loops, back and forth etc) . This makes it easy for you to find inspiration for a specific block, or just go with a "feel" like….something swirly or hearts.
Many times Amanda breaks the block design down step by step showing how she would stitch the design out. In fairness I have to say, some her photos of the quilts are a little hard to see the quilting, but the real emphasis of the book is her drawings /diagrams. Her book has 155 "mix and match" designs and 30 blocks plus some sashing and border ideas.
The Free-Motion Quilting Idea Book will go on my bookshelf alongside by doodle book and a few other  late night shopping acquisitions that I keep to jar my memory when I am having that "deer in the headlights" moment and can't think what to quilt next.
( click on the link above to go to her blog to get a preview)
So….are you guys late night or daytime impulse shoppers??
Have you had a recent quilt that has just left you scratching your head wondering what to quilt on it??
Hoping your bobbin is always half full,
Debbie