This is an addendum to the beveled quilt template review I did this past summer.
About a month ago I got an email from one of my online quilting friends. She said she ordered  1/4" quilt templates from Teryl Loy Enterprises and they arrived without the beveled edge. I emailed Teryl to find out what happened.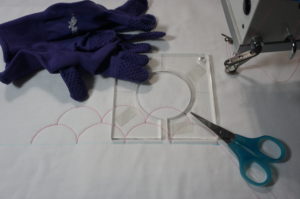 Teryl said that she has backed away from beveling her 1/4" quilt templates primarily from a cost/ business standpoint ( I do believe that her 3/8" templates still have the bevel). With the availability of sewing machine companies offering ruler feet, after market companies (Westalee and Accents in Design's Clarity foot) and now APQS putting out a new re-design of their ruler foot, they feel that 90% of quilters may not desire/ need the 1/4" beveled edge quilt template . I am sure it is very costly to manufacture these templates. Any good business person has to weight cost to demand ratios, so I totally understand that too.
If there are quilters that want 1/4"  beveled quilt templates  , Teryl said she could do that on a special order basis with a slight surcharge.  Just give her a call (don't try to order online). The 1/4" circle templates with a beveled edge are still on Teryl Loy Enterprises website ,  I would just verify availability before ordering.
I am currently working on a quilt that I am doing a chevron pattern. I would have loved the 1/4″ beveled right angle template to get that extra clearance to the right of my ruler foot.  Teryl's website says the 3/8″ quilt templates are not compatible with HandiQuilter . Consequently I suspect that they will not be compatible with my current APQS ruler foot and domestic sewing machines.
So,  as sit-down quilters do you think a bevel would make any difference to your clearance around your ruler foot? Or is the clearance issues largely related to your machine and not so much your foot (if so what machine are you using).
I am anxiously tracking the arrival of my new APQS ruler foot. Hopefully I will be getting great clearances to the right of my foot using a standard 1/4″ template.
Happy Quilting!
Debbie