Welcome to The Quilt Journal  and My Friday Finish!
I had a long list of things I wanted to finish or accomplish this summer. This thread painted clematis quilt was only one of them. For one reason or another this has been my only significant finish in a few months (funny how that happens when sadly you haven't really had time to sew in over 2 months). I am so grateful to Laura over at TGIFFriday.blogspot.com for lighting that much needed fire under my butt to make me re-enter life and get quilting!
Some of you may remember that I started this quilt back in January after taking a class taught by Melinda Bula at my local quilt guild. This quilt is made from my friend Sherry's and my stash (outside of the background fabric). Funny how saying it came from your stash practically makes you glow with pride….justifying all those purchases right??? lol :). Pooling our stash really helped. It's harder then you think to come up with a variety of color values to try and make your palate work. I don't know that you will ever actually see a clematis that looks like ours, but I love pink and purple…..so I'm a happy camper.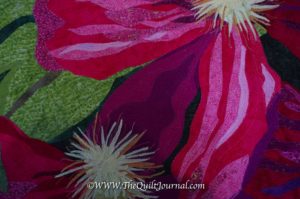 Things that did or didn't work for me during this project
Melinda likes Steam-A-Seam 2 to fuse her quilts. I like Steam-A-Seam too, but it does add a lot of fusible . Not entirely a bad thing. Due to the Steam-A-Seam and heavy quilting my quilt is rather stiff and lays really flat. Both good things for a wallhanging. The negative is I had layers of the fusible, some areas 5 or 6 fabrics thick to quilt through. Not all thread or machines like that. I started quilting this on my Baby Lock Ellisimo with Sulky 30 wt Rayon (Melinda's prefered thread). No matter what needle I put in (topstitch, mirotex, embroidery, sharps, jeans ,titanium) the rayon shredded. Changing my thread to Floriani or Glide helped, but my Ellisimo wasn't in love with this project. Consequently, I quilted the bulk on my George.
 The other consideration is paying attention to your tension.If you look closely at the picture of the stitching on the back, you can see my tension wasn't always ideal, not terrible, but not perfect either- depending on what area I was quilting.
 I thread painted this quilt with Floriani Polyester, Glide poly, and Superior threads variegated Omni and Magnifico, all 40 wt in top and in the bobbin. These threads were great- no hassle threads. I used a variety of manufactures to get the colors I needed to match the fabrics.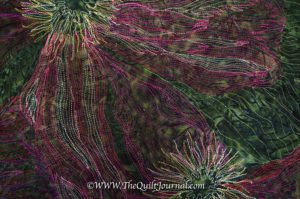 Finally the last thing that didn't work so well for me, was Melinda's technique of starting and stopping a stitch line.  Melinda pulls her threads to the top takes a few stitches and clips the tails. She feels that all the fusible will fuse the thread ends in the quilt when you hit it with an iron and make your stops and starts invisible. I found that sometimes my threads did come loose in-spite of all my ironing. Little bird nests do show more on the back where I start or finish if I take a few extra small stitches with 40 wt to secure those tails. It's also difficult to bury threads with the heavy stitching and fusible. I think it's just one of those things that I need to work on perfecting that technique. Maybe my big ole Rowenta steam iron doesn't get hot enough??? Inquiring minds may want to figure that out. haha
I had a lot of fun with this quilt and would love to do a poinsettia for the holidays….some year !?! Thanks for stopping by and visiting!
Debbie
Now onto Thank Goodness it's Finished Friday.
[inlinkz_linkup id=656774 mode=1]
Also heading over and linking up with can I get a Whoop Whoop!